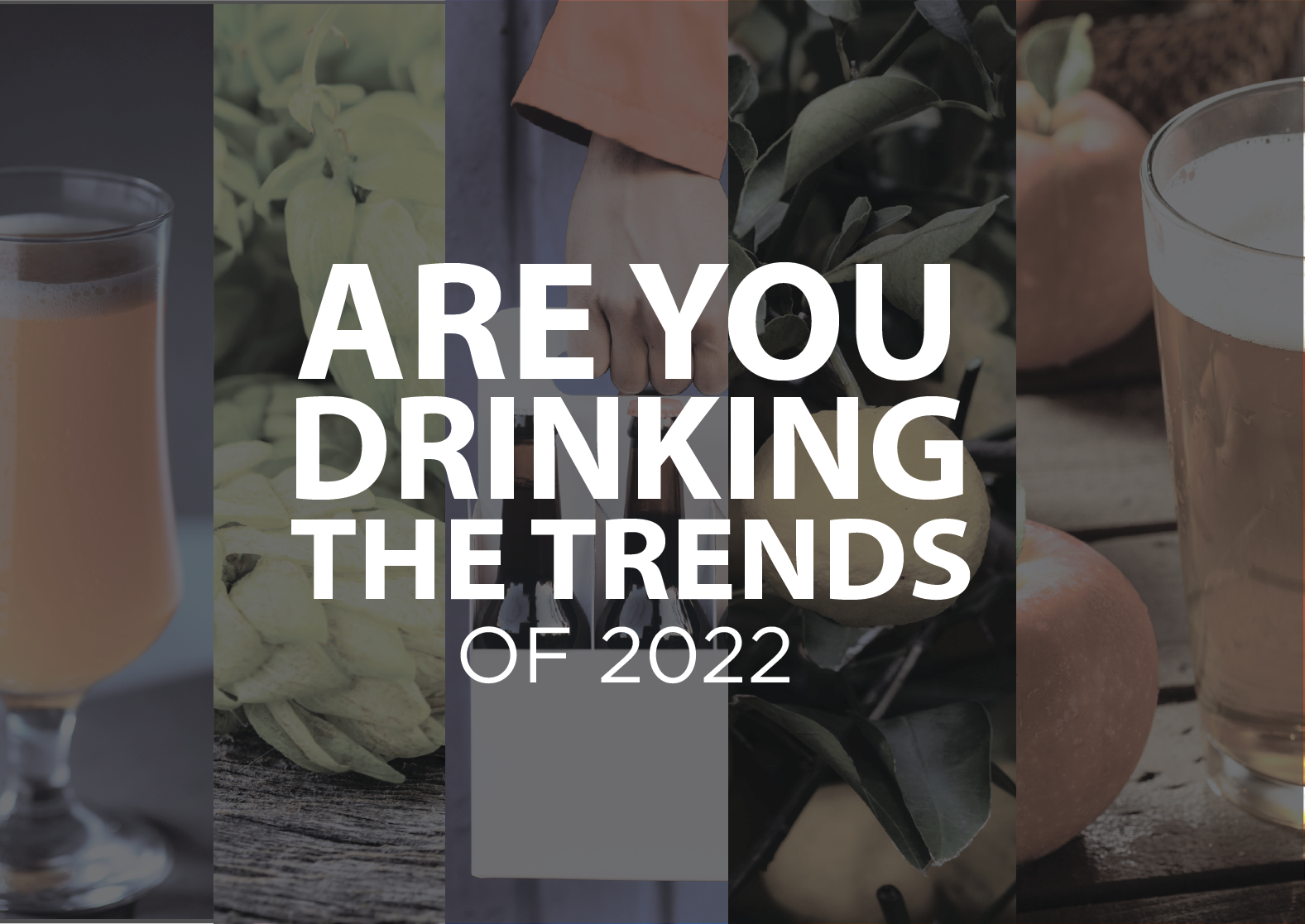 Some things are comfortably predictable in the world of beer. This is the time of year, for instance, when we pair our pints crisp lagers with everything from the grill. Then, when the cooler months arrive, it's time to welcome spiced beers with your favorite pumpkin pie.

But the beauty of beer is that in addition to the year-round classics we anticipate, brewers are a mighty inventive bunch and despite beer being around for centuries (it's one of the first beverages produced by humans), there's always something new and exciting brewing.

Here are seven beer trends that have taken off in 2022.
1. Smoothie Beers are Hitting a Sweet Spot with Dessert Drinkers
Milkshake stouts made with lactose (or milk sugar) have been around for quite some time. They're creamy and full bodied and these decadent brews are typically laced with notes of coffee, caramel, or chocolate. Now, for the next iteration of beers that could double as desserts come frothy smoothie beers. To make these experimental beverages (some may argue they're not actually beers), brewers are loading their kettle sours with everything from fruit puree to marshmallow crème. These beers, however, are expensive to make and while they may be too sweet for the average beer drinker's palate, they could be an approachable entry point to beer for those who tend to like blended cocktails. Smoothie beers certainly stick to your glass much like a traditional smoothie. But whether they'll stick with consumers is yet to be determined.

2. Demand Soars for Direct-to-Consumer Beer Delivery
At the height of the pandemic, at-home happy hours were all the rage. They also underscored the demand for direct-to-consumer beer delivery. However, few states allow brewers to ship their beer out of state, hindering e-commerce of beer sales. Amid the pandemic, restrictions loosened some, allowing breweries to take online orders. Experts predict it will take several years for breweries to get parity with the 46 states that allow wineries to ship. Some companies, however, like Tavour and Drizly are working hard to solve the distribution riddle and have specialized licenses that allow them to round up beer from craft breweries and ship them across state lines.

3. Yuzu Citrus is All the Rage (and Sneaking into Beers)
Sour beers have been gaining popularity over the past several years and show no signs of slowing down as sour-focused beers and festivals pop up across the country. One fruit that's especially ripe for experimentation in sour beers is yuzu. The citrus is mostly grown in Asia, and it has qualities of lemons, limes, grapefruit and mandarin oranges all rolled into one bumpy tangerine-sized fruit. Whole Foods listed the tart fruit among its top 10 trends to be on the lookout for in 2022. It's expensive, but also more tart than most citruses (translated: a little goes a long way). In addition to giving a lip-puckering kick to sour styles, yuzu is making its way into kölsch-style ales, hard seltzers and IPAs.

4. Hyper-Seasonal Fresh Hopped Beers are a Growing Category
Much like wineries look forward to harvest, breweries anticipate the fall when fresh hops become available. Traditionally, hops are dried and stored to be used throughout the year. However, a fresh, wet-hopped beer is crafted with whole hops that are harvested only hours before being dropped into the kettle. As such, beer drinkers are enjoying these unique, hop-driven ales and lagers made with fresh hops during harvest season, explains Chris Swersey, the competition director at the Great American Beer Festival (GABF). Following the increase in consumer interest, the "Fresh Hop Beer" category entries at GABF have grown in recent years. The fresh hops-to-pint trend is one that is expected to continue, providing a unique herbaceous, almost grassy flavor that's less bitter and unique since it only comes around once a year.

5. Whacky Limited Releases have Marketing Stamina
From the spaghetti gose churned out by WeldWerks Brewery to this year's vegan edition of the Rocky Mountain Oyster Stout from Wynkoop and the limited-edition French's mustard beer from Oskar Blues, whacky beers have been piquing the interest of consumers. These limited-run beers gain lots of buzz and almost cult-like followings, letting brewers go wild with their imaginations. But proving these almost prank-like beers have staying power beyond April Fool's Day are beer festivals that celebrate the oddball brews, like Strangebrew Fest in the Pacific Northwest and the Denver Rare Beer Tasting. While some purists may turn their nose at funky brews, the crazy beers and fantastical labels can be a fruitful marketing move for some breweries.

6. Hard Seltzer Craze Continues
Flavored malted beverages are having a major moment and the category had the best financial performance in 2020 with $6.8 billion in sales, a 68.2 percent increase, according to Chicago-based Information Resources Inc. The popularity of hard seltzers—which are low in carbs, sugar, and calories—are primarily driving the trend. But it's not just the big producers that are hopping on the hard seltzer bandwagon. Smaller breweries are meeting demand by having some hard seltzers on tap and canned. Others are taking a hybrid approach, diplomatically fusing craft beer principles with hard seltzers. For instance, Boulder Beer created a beer with bubbles that's fruit forward like an IPA and easily drinkable like a lager.

7. Creative Craft Ciders are Emerging in Popularity
Overall, craft cider doesn't make up much of the market. But Tavour—a marketplace where consumers can buy hard-to-find, independent craft beer from across the United States—is taking note of an interesting trend. Craft cider is growing in popularity, however it's not the traditional apple ciders that are seeing the lift. Rather, it's more niche ciders, like those made with mangoes, blueberries, and even rosehips and, according to Tavour, this could hint at a broader trend of fruited beers gaining popularity.