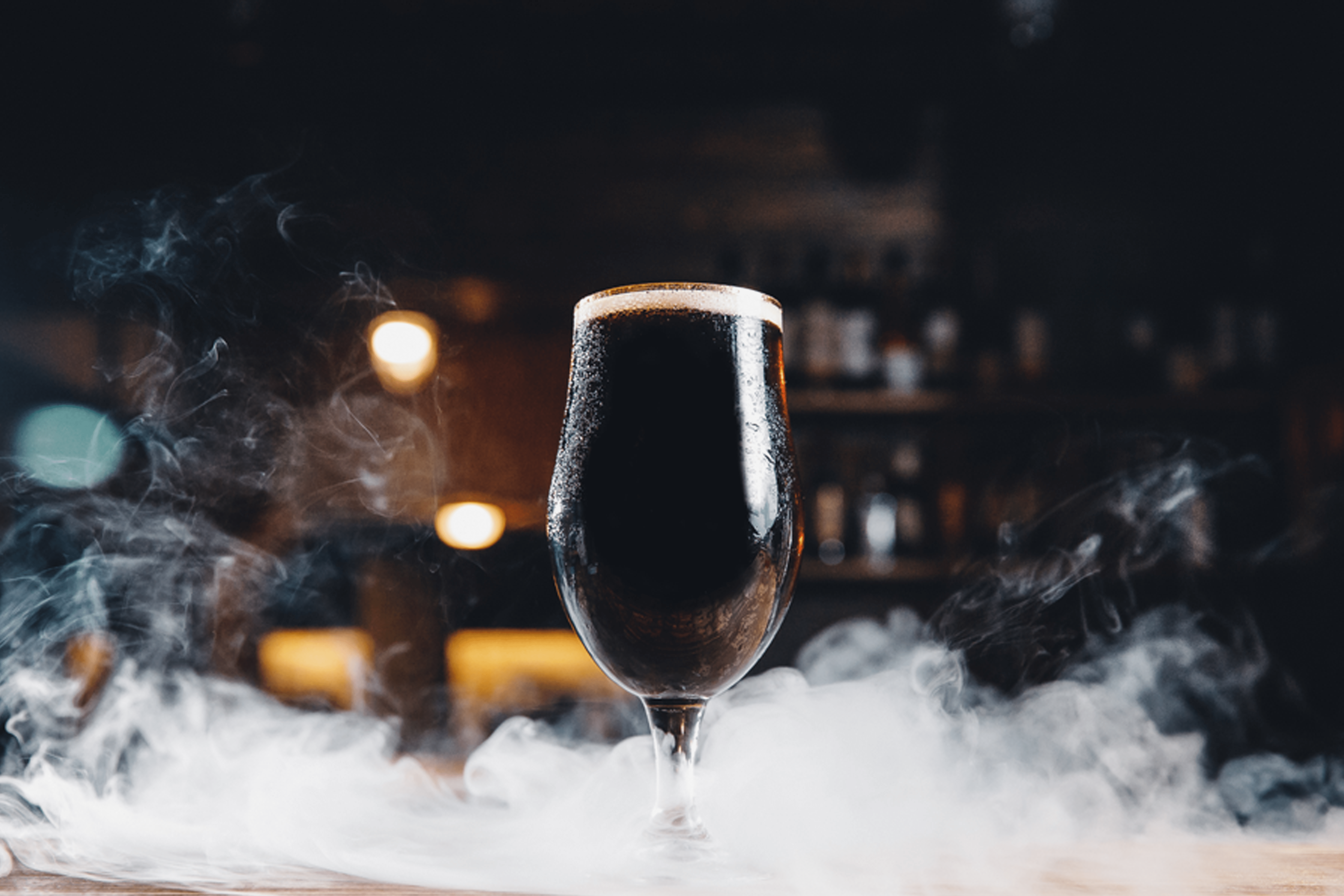 While fruity, juicy, hazy and tart flavors have dominated taprooms, a bolder, divisive flavor—smoke—has billowed its way into porters, lagers and ales. As uncommon as the beer made with smoked wheat or malt is, it's likely been around since humanity's first pour.

Rauchbier, which directly translates to smoked beer, originated in Bamberg, Germany, or so its prideful residences proclaim. In an email from Matthias Trum, sixth-generation brewmaster of Schlenkerla historic brewery in Bamberg, one legend states the creation resulted from a fire in a monastic brewhouse--but no one knows for sure. Beer dates to ancient Mesopotamia, when fire-drying germinated grains over the open flame would be the only source of man-made heat. Flames and grains---sounds smoky, doesn't it?

Geoff and Marcy Larson, Alaskan Brewing Company founders (who often complete each other's sentences) came to the same conclusion when they created their recipe for their highly decorated Smoked Porter, the quintessential American-made Rauchbier.

The Smoked Porter was an exploration into Alaskan brewing history, as well as a necessity birthed under fortuitous circumstances. Marcy was researching pre-prohibition Gold Rush era Alaska and learned that many of the miners were also malters.

"We put two and two together—if they made malt in the early 1900s, they had to use heat from some source, and the best use is most likely hardwood," Geoff says. At the same time Marcy was researching Alaska's past, the Larsons ran into a modern-day conundrum: finding the right beer to pair with a bold dish.

Alaskan Brewing Company's neighbor Taku Smokeries processed and smoked fresh Alaskan salmon. "At the end of our shifts, we would all gather and enjoy our productions," Marcy says. "The smoked fish has such a strong and wonderful flavor, but our beers would just vanish."

The Larsons wanted to create a recipe that could stand up to the salmon. Taking advantage of the expert smokers across the street, they dialed in their recipe and hit the right balance. The Smoked Porter came out in 1989, long before anyone cared about churched-up beer, but it left a smoldering impression. It won gold at The Great American Beer Festival for best porter, a time when niche award categories didn't exist. The gold medalist has won 21 more medals since. Geoff later co-wrote "Smoked Beers" in 2001 and has been a leading authority on the style.

The challenge of creating a balanced Rauchbier is smoke's tendency to saturate the palate. Geoff and Marcy use the example of a jacket after a campfire. You don't notice the smell so much at the time, but the next day the whole house smells like a cookout.

"Too much of a good thing doesn't come across as pleasant," Geoff says. "Salt is an excellent complement to many foods but if you put too much in, you can ruin the dish. Same thing with smoke."

New release from Sioux Falls, South Dakota taproom Severance Brewing Company, toasted coconut Smoke and Pizzaz's grain bill consists of 5% Weyermann beechwood smoked malt. (Weyermann is one of the few companies that provides smoked malts.)

"The smoke is upfront in the aroma, then melds nicely with the sweet toasted coconut flavor," co-founder Scott Heckel says.

The blonde ale is much milder than some of its fellow Rauchbiers. "In our local market, I can't remember seeing more than one other smoked beer, a Scotch ale. It almost tasted like brisket," Heckel says. Attributing smoked beer flavor to meat is common. It taps into some Pavlovian part of the brain where an unbreakable connection exists.

The late Greg Noonan, the veteran beer writer and owner of Vermont Pub, created a smoke porter in 1992 inspired by Alaska Brewing's famous brew. His version was made with hickory. Everyone kept asking Noonan if he was using ham in his recipe. He switched to Maplewood, then his customers assumed there was a sausage infusion. In Alaska, drinkers questioned Geoff and Marcy if they brewed their beer with fish.

"The only wood around here is alder," Geoff says, which imbues northwestern salmon with its classic, recognizable character. It dawned on the Larsons that people attributed the carnivorous flavors to woods typically used to smoke certain meats.

"People say smoke is just smoke, but it's powerfully influenced by the wood that's used," Geoff says.

These expectations of an overpowering smoky flavor may be why the brewing community has largely ignored Rauchbier. But used sparingly, it can create new flavor experiences. Both the Heckel and the Larsons also incorporate their malt into other recipes as well, like Alaskan Brewing's upcoming 35th Anniversary release.

"There is a level of subtlety, so you almost don't recognize the smoke until you find out there is smoked malt in there, " Geoff says. "The use of smoke malt is overplayed to adjust the smoke character, making beers one-dimensional."

Brewers may be wrong about smoke's flavor limitations, but the Larsons recognize that the esoteric beer is more seasonal than sessionable.

"It's a robust flavored product," Geoff says. "It's not only just for food selection, but also mood selection." It's why they choose to release the Smoked Porter in the fall.

You don't want to drink more than one or two. Plus, they market the Alaskan smoked porter as a vintage. The smoke is an antioxidant and preserves the 6.5 ABV brew. The beer ages gracefully, the smoke fades over time making room for sherry and raisin notes. Marcy says year 10 is the sweet spot.

Regardless of where your allegiance lies with smoked beer, it's undoubtedly an ignored character that might bring freshness to the bar table in a way the word "smoke" may not imply.

"It's an under-appreciated style, or just a component you can add to a recipe. You don't see too many smoked beers out there," Heckel says. "It is fun to throw an oddball in there every once in a while."
---
Every year, Alaskan Brewing Company holds a competition to see who can make the best dish using their Smoked Porter. This cheesecake recipe is one of the winners. Try it for yourself!
SMOKED PORTER CHEESECAKE
Ingredients
• 24 Oz Cream Cheese, Room Temperature
• ¾ C Light Brown Sugar
• ¾ C Sugar
• 1 ½ Tsp Salt
• 1 Tbs Vanilla Extract
• 6 Eggs, Room Temperature
• 2 Pints Sour Cream, Room Temperature
• 1/3 C Cornstarch
• 24 Oz Alaskan Smoked Porter
• 1 C Shortbread Cookie Crumbs
Directions
1. Preheat the oven to 350 degrees.
2. Boil the Smoked Porter over medium heat until it's reduced to roughly ¾ cup. Set aside to cool.
3. In a large bowl, combine the cream cheese and sugars, mix well. Fold in the salt, vanilla and eggs (one egg at a time), beating until the mixture has a smooth consistency. Add in the sour cream, cornstarch, the beer reduction and blend well.
4. Press the cookie crumbs into the bottom of a lightly greased springform pan.
5. Carefully pour the batter mixture into the pan and smooth it out until it's level. Place this in the oven with a pan of water on the rack beneath. Bake the cake for 1 hour and 45 minutes or until the center is set but still jiggles.
6. Remove your cake and cool overnight in the refrigerator. Serve the cake chilled with fresh raspberries and glass of Alaskan Smoked Porter